COG Receives Award for Project that Provides Free Tuition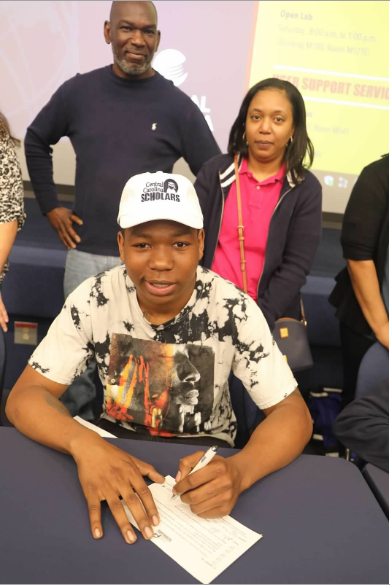 PRESS RELEASE: Jan. 6, 2020
MEDIA CONTACT: Chris McKinney (803-774-1384)
Santee-Lynches COG received the 2019 Aliceann Wohlbruck Innovation Award from the National Association of Development Organizations (NADO) for a regional project named "Central Carolina Scholars Program" that provides the first two years of college education at Central Carolina Technical College tuition-free.
SUMTER, SC – The National Association of Development Organizations (NADO) awarded Santee-Lynches Council of Governments a national award for their "Central Carolina Scholars Program" Project at the 2019 Annual Training Conference. Located in the SanteeLynches region, Central Carolina Technical College (CCTC), which serves the same four-county area, identified a significant challenge in that the average age of their students was in the upper 20's. This meant that many residents were losing years of opportunity to increase their skills and compensation in the workplace and there was a growing gap between open jobs and qualified employees. Regional partners needed a way to reduce the gap between high school graduation and enrollment in post-secondary education, whether it be through an associate degree, certification, or courses toward a four-year degree at another institution. This would lead to a compounding positive impact on economic development over time.
In 2015, the Santee-Lynches Region launched a cutting-edge plan to reverse that challenge and intentionally fund the future, by introducing the "Central Carolina Scholars Program." This program was a groundbreaking scholarship initiative like no other. The Central Carolina Scholars Program provides the duration of one program of study for up to two years (six consecutive semesters) of
higher education at the region's Central Carolina Technical College tuition-free. It is designed to be an economic development tool for existing and new industries and will afford expanded higher education opportunities to students in Clarendon, Kershaw, Lee and Sumter counties regardless of their socioeconomic status.
In order to move from concept to reality, the four counties, and the region's two largest cities (Camden and Sumter) came together to commit matching funds over and above their existing support to CCTC. Through coordination, careful messaging, and peer accountability, all six units of local government made the necessary commitments via their budgetary processes to fund the program and bring the opportunity to reality for students.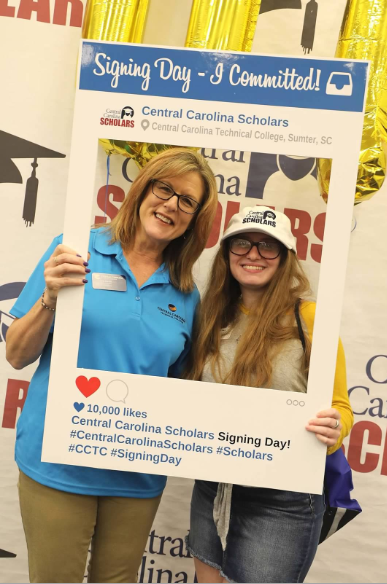 As a result of the regional collaboration, 1289 scholars have been involved in the four-year cohort of the program. Of those students, 198 enrolled in 2016, 328 enrolled in 2017, 372 enrolled in 2018 and 391 enrolled in 2019. This was a 97% increase in enrollment from the first year of the program to the fourth year.
In addition to the total enrollment successes that the program has created, of the 1289 scholars approximately 70% have either successfully graduated or transferred to another institution to continue their education or are still enrolled at CCTC.
Additionally, 92% are placed in jobs related to their field of study within one year of graduation, which helps supply the region's demand for a highly skilled and technically competent workforce.
NADO is a national network of 540 multi-jurisdictional regional planning and development organizations. Award-winning projects were highlighted at the 2019 Training Conference in Reno, NV. The 2019 class of award recipients consists of 100 projects from 66 organizations spanning 24 states. The Aliceann Wohlbruck Impact Awards program is an opportunity each year for NADO to publicly recognize the great work regional development organizations deliver to their local communities.
About Santee-Lynches Regional Council of Governments
Santee-Lynches Regional Council of Governments is a premier organization committed to optimizing our region's unique strengths for a better tomorrow. Our mission is to deliberately enhance the quality of life and provide opportunities for the advancement of our region. Santee-Lynches serves the counties and cities of Clarendon, Kershaw, Lee and Sumter. To learn more, visit santeelynchescog.org.
Santee-Lynches COG is a member of the South Carolina Councils of Government (SC COGs). The SC COGs are a network of the 10 regional councils of governments working to positively affect quality of life and economic development in South Carolina. SC COGs serve as an extension of local and county governments to provide technical assistance, secure state and federal dollars to address critical issues, and advocate at a state and national level for economic and quality of life improvements for South Carolina. To learn more, visit sccogs.org or visit santeelynchescog.org.
About Central Carolina Technical College
Central Carolina Technical College is a comprehensive, public, two-year institution of higher education that is dedicated to fostering a positive environment of teaching and learning for faculty, staff and students. The college serves primarily the region of Clarendon, Kershaw, Lee and Sumter counties in South Carolina and confers associate degrees, diplomas and certificates. Central Carolina Technical College students have a wide array of programs and services from which to choose. Our online programming and cooperative agreements with other colleges and universities provide students with exceptional opportunities coupled with our more traditional learning opportunities. Learn more: cctech.edu