High Job Placement Numbers in 3rd Quarter by Santee-Lynches Regional SC Works Centers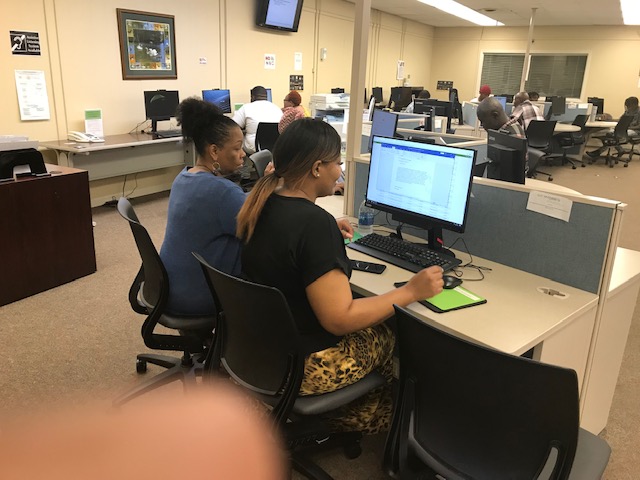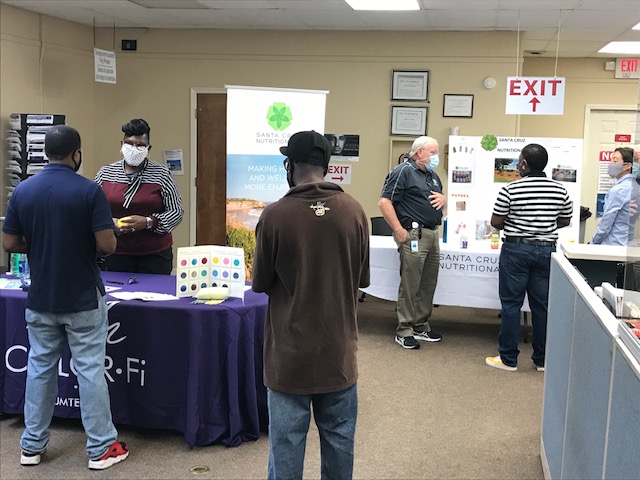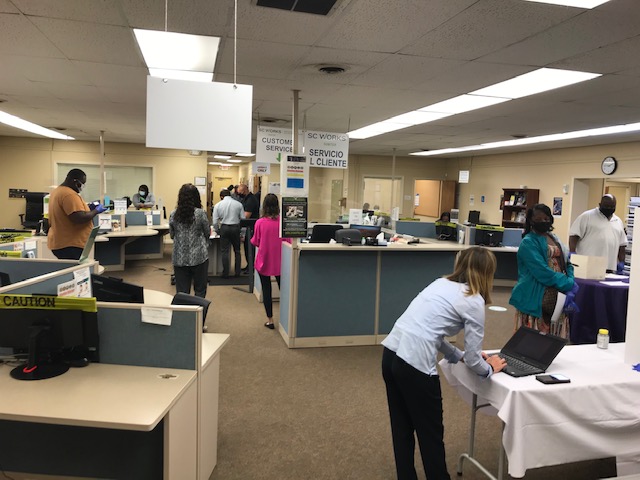 Santee-Lynches Regional SC Works Centers produce almost ½ of states job placement numbers in 3d quarter.
MEDIA CONTACT
Areatha Clark (803-774-1405)
November 9, 2020
SUMTER, SC – Santee-Lynches Regional SC Works Center had a very strong 3rd quarter. The comprehensive centers which are in Sumter and Camden, are comprised of staff from various agencies. The staff members primarily responsible for employment are the SC Works Operator, Ray Jackson and the SC DEW staff led by Nicole Garner. During the pandemic, getting people back to work has proven very difficult across the Palmetto State for several reasons and is also challenging for the Santee-Lynches Region as well. One reason Gardner and Jackson believe their numbers are so high is due to the "team culture" that exists in the centers. Jackson stated, "Everyone knows they are valued and so everyone executes their role with precision. Everyone has heard the quote "teamwork makes the dream work", but we are fortunate to be able to live it out."
Areatha Clark, the Deputy Executive Director and Chief of Workforce Development, stated, "The staff are all laser-focused on doing their part to elevate their four-county region. They take personal ownership and do everything within their control to get people back into the workforce. Now the person receiving services has a critical role to play too, and we have been fortunate to have some motivated people seeking employment assistances." Clark went on to say, "The leadership of Ray and Nicole is exceptional, and the numbers are the fruit of their efforts." Clark, Jackson, and Garner all noted that Steve Hampton, a 27-year employee, who is the Business Consultant does a phenomenal job of working with employers to help meet their needs with finding qualified workers. His efforts provide the leads necessary to connect our citizens with employment.
The job placement numbers year-to-date are:
| | | | | |
| --- | --- | --- | --- | --- |
| | South Carolina Job Placement Numbers | S-L Region Job Placement Numbers | % S-L Region Contributed to State Totals | % Other Regions Contributed to State Totals |
| 1Q | 1421 | 205 | 14.43% | 85.57% |
| 2Q | 287 | 15 | 5.23% | 94.77% |
| 3Q | 580 | 268 | 46.21% | 53.79% |
The Executive Director, Chris McKinney, stated, "If we contribute 8-12% of the state total, we are doing well for a small rural region. It was very exciting to find out that our staff contribute ½ of the total numbers for the 3rd quarter for the entire state. This is exceptional! I firmly believe that everything rises and falls on leadership and I agree with Areatha, the 3rd quarter numbers are due to the exceptional leadership of Nicole and Ray. McKinney also noted that Hampton is an exceptional employee who is cut from a very different cloth.
The team is very proud of the 3rd quarter numbers and will continue to strive to add value to the four-county region of Clarendon, Kershaw, Lee, and Sumter Counties.
About Santee-Lynches Regional Council of Governments
Santee-Lynches Regional Council of Governments is a premier organization committed to equipping our communities to achieve their full potential. Our mission is to collaborate purposely to enhance the quality of life and provide opportunities to advance our region. Santee-Lynches serves the counties and cities of Clarendon, Kershaw, Lee, and Sumter. To learn more, visit santeelynchescog.org.
Santee-Lynches COG is a member of the South Carolina Councils of Government (SC COGs). The SC COGs are a network of the 10 regional councils of governments working to positively affect quality of life and economic development in South Carolina. SC COGs serve as an extension of local and county governments to provide technical assistance, secure state, and federal dollars to address critical issues, and advocate at a state and national level for economic and quality of life improvements for South Carolina. To learn more, visit sccogs.org or visit santeelynchescog.org.